"When people realize how lonely it is being on their own, they will become kind."
— Mirajane
Mirajane strauss is one of the playable hero in Battle of : Fairy Tail and, Hero arena map that presented by BOFT Team maker.
Mirajane is a loving and caring person who treats her friends, and even strangers, with kindness.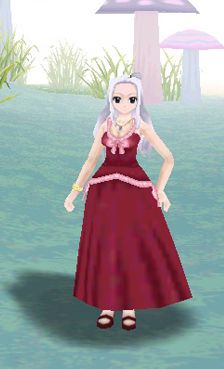 Mirajane appearance in game.
Mirajane is a skilled user of
Take Over
, a type of Magic which, as the name suggests, allows her to take over the powers and abilities of particular creatures she really "
knows
".
She shares such Magic with her siblings
Elfman
and
Lisanna
, something which made them known as the "
Take Over Siblings
". The particular, signature form she employs is called
Satan Soul
Mirajane is a slim young woman of below average height. She has long, white hair, which gets slightly curly at the ends, with two bangs framing her face and reaching down to her ample chest, and whose most distinctive trait is a short, upward ponytail obtained by gathering and tying the hair covering her forehead.
•
Spell 1 -
Lightning Magic : Evil Sparks
A melee spell in which Mirajane extends both of her hands to touch the opponent, subsequently channeling electricity through them.
•
Spell 2 -
Water Magic : Evil Explosion
Using her Magic Power as a medium, Mirajane lifts a body of water, even one as big as a river, with her arms, and then starts rotating, sending the water flying towards her foe in a powerful whirlpool.
•
Spell 3 -
Darkness Magic : Evil Explosion
Mirajane holds her hands together and a dark colored sphere gathers on her palm. When fired, a powerful beam is expelled from the Mirajane hand.
•
Spell 4 -
Darkness Magic : Soul Extinction
Mirajane initiates this attack by gathering energy from the surrounding area between her hands, which subsequently takes the form of a large, transparent globe. Such globe is then launched at the opponent, generating a devastating explosion.
Mirajane is powerful character. She can cast many type of magic like lightining magic, water magic, and darkness magic. Her Soul Extinction spell is maybe will become the powerful magic.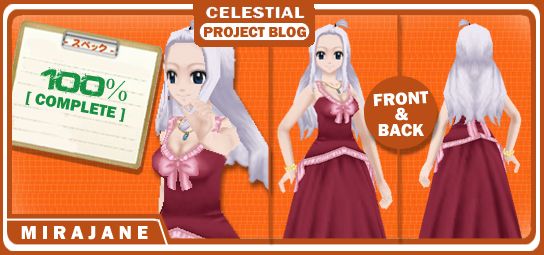 Mirajane Preview from back and front side.