"Spirits aren't shields! I fight alongside them! That's my style!"
— Lucy to Loke
Lucy Heartfilia is one of the playable hero in
Battle of : Fairy Tail
and, Hero arena map that presented by BOFT Team maker. This is my favorite character, Lucy is very kind to her Celestial Spirits, and refuses to use them as shields.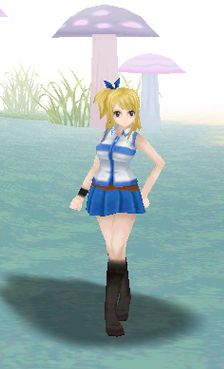 Lucy appearance in game.
Lucy practices Celestial Spirit Magic, which allows her to summon Celestial Spirits, Magical beings residing in the Celestial Spirit World, using the Keys of their respective Gates.

When summoning a spirit, the Keys are enveloped with a soft, golden light. Once a contract has been made with a Spirit, such Spirit will be available for Lucy to summon on certain days, in which it will fight on her side and perform several tasks for her.
Lucy has brown eyes and blond hair that is usually tied by ribbons of a variety of colors in a singular bunch to the right side of her head. Though in the year X791, she appears to keep her hair up more often in pigtails. She has large breasts, and a curvaceous body.
•
Spell 1 -
Lucy Fire Dragon's Iron Fist
An effective melee spell, in which the user engulfs his/her fist in flames and then punches his/her opponent, causing heavy blunt damage.
•
Spell 2 -
Key Pocket
This contain so many keys that can
be use like virgo, sagitarius and etc.
•
Spell 3 -
Aquarius : Giant Wave!
An attack in which she absorbs water in her urn and hurls it with tremendous force. She can throw a yacht from a few hundred miles out at sea back to shore.
•
Spell 4 -
Urano Meteoria
A powerful spell, known as the "Ultimate Magic of the Stars". Lucy will summon gemini in front oh her then gemini mimicking hibiki laytis then help lucy to cast urano meteoria.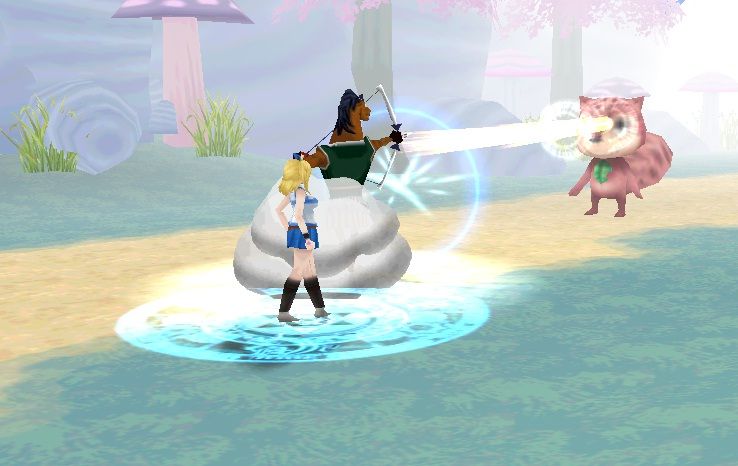 Sagitarius shot arrow to targeted enemy.
Lucy is my favorite character beside Angel. She have many key that can be used in game to defeat your enemies. In game she have spellbooks. And in the spellbooks there are so many spirit that can be summoned to help us.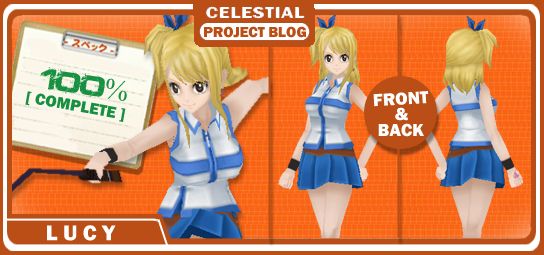 Lucy preview from Front and Back side.