"A cheerful and upbeat young teenage girl which her magic is focused on writing and words."
— Description
Levy McGarden is one of the playable hero in

Battle of : Fairy Tail

and, Hero arena map that presented by BOFT Team maker.
Levy has a cheerful and upbeat personality, being able to get along with many other guild members.
Levy appearance in game.
True to her boundless interest in books, Levy's Magic is also focused around writing and words: Solid Script allows her to generate words in the air and make them solid, subsequently throwing them at the enemies with different effects.
Levy is a young, teenage girl with a slender build and stands at a height below average for her age. She sports blue hair, with the top cut short and the bottom longer, normally tied up with a colorful bandana around her head.

Levy outfit is a short orange dress adorned by a large, white bow on her chest. Her attire is completed by long, orange sleeves that are tied to her arms just below her shoulders by white ribbon.
•
Spell 1 -
Solid Script : Fire!
This prompts the word "Fire" to appear in the air, this being composed of flames. This word can be employed both defensively.
•
Spell 2 -
Solid Script : Iron!
Levy can generate the word "
Iron
" in the air, some meters away from her. This, predictably, is composed of iron.
•
Spell 3 -
Solid Script : Storm!
Levy writes a word "Storm": creates strong gust of wind.
•
Spell 4 -
Solid Script : Thunder!
Levy writes a word "Thunder" and throw it to enemy targeted, creates powerful lightning which strike the enemy.
Levy magic, Solid Script allow her to use various kind of elemental magic. She has Solid Script: Thunder for her ultimate magic which allow her to create word "Thunder" and throw it to the enemy targeted.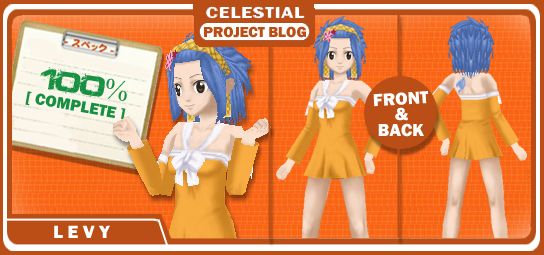 Levy model preview from front and back side.